Beginner, Intermediate and Experienced Classes of Yoga for Men in Adelaide
Yoga for Men
10 week course starts 1st February 2021 at 6pm
Here at Coast Yoga, we believe that all ages and genders can benefit from yoga. There are untold benefits of yoga for men and it is being adopted by many of the male population to bolster bodies and minds in all kinds of ways. Men's yoga builds strength and flexibility for tight hamstrings and hips. It helps with over training in the gym by stretching tight pecs and releasing shoulder stiffness. It helps with resilience by lowering the chances of injury in high performance sport.
Coast Yoga will offer a 60 minute designated yoga class for men, once a week on Mondays at 7.30pm starting on January 20th for 10 weeks.
Book Yoga for Men Online
10 week course. Coast Yoga is offering a 60 minutes designated mens class on Mondays  at 7.30pm. It is open to men at all levels of yoga experience. .Fee: 10 classes $165 or $22 drop in rate.
More information
8 week courses start on:
Tuesday October 20th 7.30pm
Wednesday October 21st 7.30pm
Sunday 9.30am (ongoing beginners start any Sunday)
Monday 9.30am
There is no casual payment – we offer an 8 week class pass for the Tuesday, Wednesday, Monday Sunday courses. Late starters welcome. You can make up classes during the course.
Length: 60 minutes.
Cost: Attend up to 4x a week for 8 weeks – $185
Once a week for 8 weeks – $135 (at any time slot listed above).
click the Book Now button above.
Attend a course of intensive yoga and gain flexibility, strength, stamina and well-being fast.
Sports yoga
Yoga is a great compliment to many traditional sporting activities. It strengthens, lengthens and tones muscles from the smallest to the biggest. It builds stamina, allows the yogi to listen to the body, preventing over-exertion or joint damage, and promotes flexibility. Our men's yoga classes are also a great counterbalance if you are frequently performing repetitive exercises or sports. Many sportsmen now choose to do a short practice before key races or games to enhance concentration and loosen muscles during the main event. In addition, it will help to reduce any post-sport aches and pains.
Yoga for focus
Correct yoga practice can improve brain function more than any other physical activity. It has been shown to drastically improve memory, productivity, confidence and energy levels. Many employers are seeing the benefits in staff who have regular access to yoga classes.
Men's Yoga Classes for Relaxation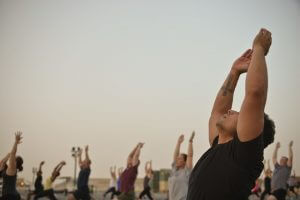 Yoga is known to help relieve stress and promote better sleep. The poses along with the yogic abdominal breathing help to reduce anxiety, depression and fatigue. Yoga also lessens the body's production of the stress hormone, cortisol – this reduces the risk of thyroid problems, lowers blood pressure, strengthens muscle tissue and helps reduce inflammation.
Strengthening
Yoga is comparable to weightlifting for building lean muscle – one of the many benefits of yoga for men. It promotes spinal flexibility, bolsters core strength and drastically improves posture.
Classes for health benefits
Practice boosts the immune system, improves digestion, encourages mindfulness and can aid weight loss.
Top yoga poses for men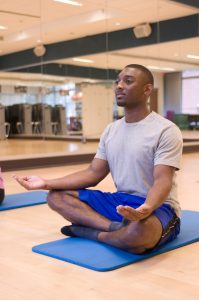 In our classes, you will come across many different poses that will benefit the specific needs of the male physique:
WARRIOR ONE: a well-known posture that stretches the hips and shoulders
DOWNWARD FACING DOG: a movement and pose that will loosen tight hamstrings, calves, hips and shoulders
UPWARD FACING DOG: perfect for men who are sat behind a desk all day as it works on the hip flexors and abdomen
STANDING FORWARD FOLD: this will open the hips, the back of the legs and the back, promoting lower body strength and flexibility
CHAIR POSE: one of the most demanding poses – it works on the ankles, quads, glutes and shoulders
What to expect from Coast Yoga's Men's Yoga classes
We specialise in Iyengar Yoga – exploring the physical body and mind in every posture, perfecting alignment and easing preoccupied minds. The fully-trained teachers demonstrate each pose for the students, use precise language to help understanding and will adjust students' position to ensure that the most is gained from each posture.
The benefits of yoga for men are endless. For a full list of classes in Adelaide, please view Coast Yoga's timetable.