Immerse yourself in the region of Karangasem in our week-long Bali Yoga Retreat – one of the most beautiful and unspoiled areas on the Indonesian island of Bali, far from the crowds and tourism of Kuta, but only 3 hours from the airport. Amed is best known for its shipwrecks and deep-sea diving, snorkelling and fishing trips, as well as a place to relax and soak up the sun and enjoy Balinese Village life.
Practice daily yoga in a beautiful and relaxing setting. Enjoy a massage, swim or snorkel in the breaks.
Attendees need to have done 6 months of yoga to attend.
Dates and details
Dates and Duration: Join us for 7 days, beginning on Saturday 29th August at 4 pm and ending on Friday 4th September at 1 pm.
Cost: The cost of your retreat includes yoga tuition, accommodation and food at the Life in Amed Boutique Hotel. A deposit of $300 is required at the time of booking to secure your place with us. The total price depends on your choice of accommodation (we have 3 beautiful accommodation options to choose from). There is a 3% surcharge with credit card payments and no surcharge with direct bank transfer.
Payment due: Full payment is required by June 1st 2020. However, if you wish to pay the full amount prior to this date, you can do so at the time of booking.
Transport: Transport to the retreat from the airport and back is not included, but can be organised with us. The cost for a car is approximately $65 each way and transports 4 people. Contact us on  enquiries@coastyoga.com.au to arrange your transfers.
It is advisable to book return fares to Bali as soon as possible to make the most of cheaper fares.
How to Book Your Bali Yoga Retreat!
1. Choose your accommodation from the options below. Please note that availability is based on a first-come-first-served basis.
2. Pay your deposit online (full payment is due by June 1st 2020, so you may wish to pay in full at this stage)
3. Fill in the registration form online or at the Coast Yoga centre and let us know if you have someone you would like to share your retreat experience with.
What to Expect from Your Retreat?
A full week of yoga tuition including pranayama and meditation – 2 hours of dynamic yoga in the morning and 1.5 hours of restorative yoga in the afternoon.
There will also be time in the middle of the day to swim, snorkel, receive a massage or simply discover the local area.
Good company and beautiful surroundings in fabulous and tasteful accommodation.
 There will also be a day trip to visit the rice fields, palaces and temples in the area will be organised for those who would like to go. The cost of this will be determined at retreat.
Yoga retreats deepen your yoga practice, and give a feeling of deep wellbeing, relaxation and space from your busy life.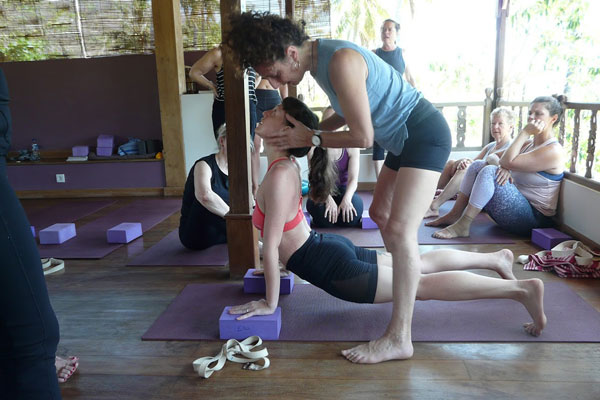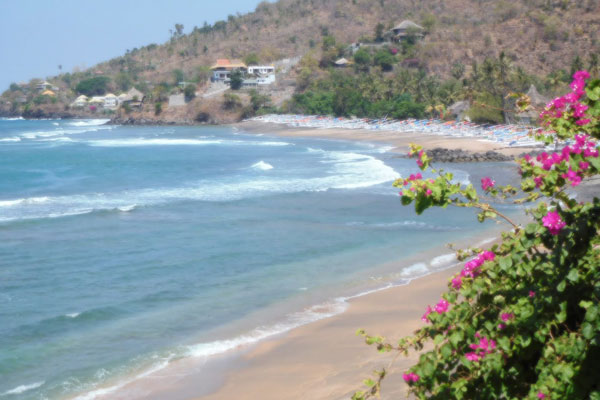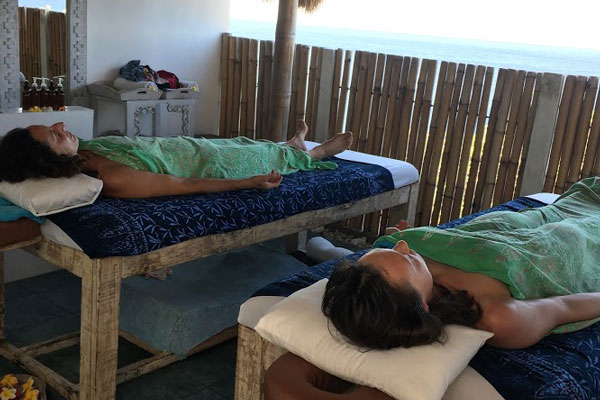 Accommodation Options
Our Bali Yoga Retreat will be held in the Life in Amed Boutique Hotel in the Village of Lean, Amed. The beachfront hotel was built with a blend of Balinese and modern design. Expect elegant decor, fine bedding and furnishings, natural stone bathrooms and an outdoor swimming pool, ocean views and lush fragrant gardens.
Food from the hotel restaurant is included within the price of the retreat and has received rave reviews from our guests. Sample anything from fresh fish and chicken, organic salads or spicy Balinese sambals.
5 Ocean Beach Cottages – Cottage share-$1840pp/ $1895.20 -includes accomodation, food and yoga tuition. If paying by credit card at check out there is a 3% surcharge- full cost $1895.20. No surcharge with direct bank transfer-
Decorated with Balinese and modern design, each with a king-size bed, fine linens and furniture and bathroom with a small outside sitting area.
Upstairs has a relaxing area with additional twin beds.
Each cottage has a view of the gardens and swimming pool, though each terrace has enough privacy from the fragrant flowers planted in front.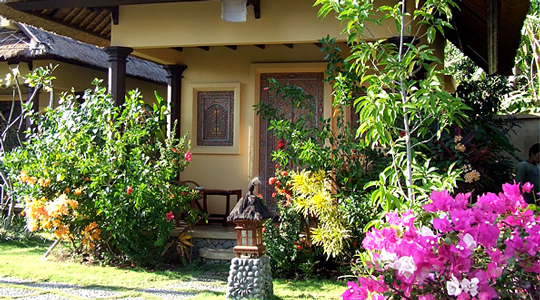 Perfumed Garden – 3 double occupancy rooms, one king size the others twin – $1,920PP. Full cost with credit card payment includes a 3% surcharge- $1977.60. No surcharge with direct bank transfer.
There are three bedrooms, each with their own terrace facing the ocean. Each room has a colourful en-suite bathroom with outdoor showers perfect for looking at the mountains and stars. The centerpiece is a large breezy living and dining room for gathering and lounging.
The Perfumed Garden rooms have king size beds, their own terrace and bathroom.
The Perfumed Suite has an antique carved king-size bed, an ocean terrace, a bathroom complete with a copper bathtub and large outdoor shower,
splendid views from each side and its own private swimming pool.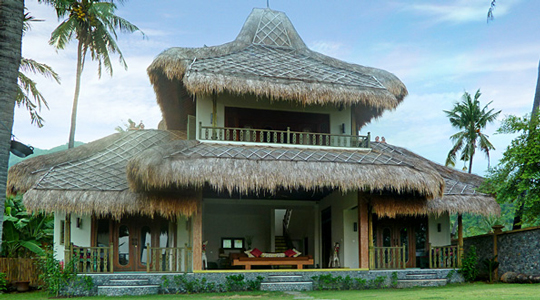 Sari Sunrise and paradiso Beachfront Villas – 2 villas for 4 persons – Single occupancy, each person has a floor – $2050PP. The villas are for those who would like their own room. Payment with credit card incurs a 3% surcharge. Full cost $2111.50. Payment via direct bank transfer no surcharge.
The two level villas have spectacular sunrise views from your four poster bed. The lower level looks onto the jukung boats resting on the sandy beach.
There is a king-size bed on the lower level great for lounging and listening to the waves.
The sari is complete with two en-suite bathrooms made with natural stone, one on each level ideal for bathing under the moonlight.
The paradiso has two bedrooms and 2 living areas upstairs and downstairs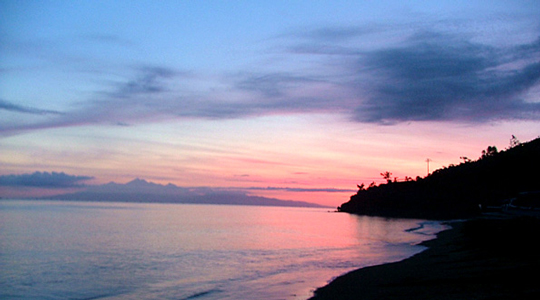 Book Your Bali Yoga Retreat Online Today!
Choose your accommodation from the available options and purchase the Bali Retreat Deposit below to secure your place.  
OR
To book and purchase your Bali Yoga Retreat in full, select your chosen accommodation from the product options below.