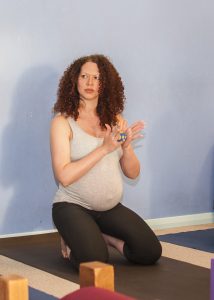 Vanessa Shribman teaches the yoga for pregnancy classes. She has been teaching prenatal yoga in Adelaide for 24 years and is a registered physiotherapist.
Pregnancy classes at Coast Yoga are recommended by many midwives and some obstetricians in South Australia. They are open to complete beginner's or to students who can no longer attend their regular yoga class.
There are numerous benefits associated with pregnancy yoga, including helping you to stay strong, healthy and pain free throughout pregnancy in a safe way with yoga and core exercises. Vanessa is able to adapt the poses as your pregnancy progresses and if you have particular issues with your body or your pregnancy.
If you would like to attend regular classes in your pregnancy at all levels you will be safely guided in all classes at Coast Yoga. Teachers are trained to modify poses for pregnancy.
What the sessions involve
You will develop your confidence that birth is a normal healthy process and your body is designed to birth normally.
You will learn to plan for difficulties that may arise so that you can make the most of the situation and attain the best outcomes for you and your baby.
You will develop skills to cope with pain and discomfort.
You will understand the normal process of birth and how you can support yourself in allowing the process to unfold.
You will be introduced to the choices and options in birth so that you feel informed and can collaborate with your health care professional in finding the birth that supports you and your partner.
You will learn techniques to cope with fear.
You will be informed about interventions, when they may be necessary and when there may be other options.
You will know how to help your baby get into the most optimal position for birth and if your baby is in a breech or posterior position at term you will learn about the options for birthing.
You will be introduced to many natural alternatives to interventions such as induction if your baby is overdue.
You will be introduced to many useful web resources and books to help you be informed and make choices that make your birth a positive experience.
You will meet other pregnant women and have the opportunity to share your experience of pregnancy and your questions about birth.
You will hear experiences of women who have birthed before and can share their wisdom of birth.
You will learn to deeply relax and rest.
You will learn how to negotiate the best possible care from your chosen place of birth.
You will learn how to make a Caesarean a positive experience (if you need one).
Our Yoga for Pregnancy classes in Adelaide are suitable from 12 – 40+ weeks of pregnancy. You can start the class at any stage of pregnancy. The class is designed for those new to yoga and so no previous experience is necessary.
If you have been attending regular classes at Coast yoga you may choose to remain in a regular class until later in the pregnancy. All teachers are experienced with adapting a regular class for pregnant students. Please go to the timetable to find a class at your level.
Class Schedule
The classes run in 10-week cycles. In this time you will cover the topics that are included in the course.
Each class starts with some discussion followed by yoga and Pilates, pelvic floor strengthening and awareness, breathing and relaxation.
Dates: Every Friday (start at any time)
Length/times: 6.30pm – 8pm
Cost: $165 for 10 sessions
*12 month expiry.
*No casual visits available.
(For couples birth please check out the couples birth skills page).
More details
You can start at any time. You can do as many cycles as you want. You do not have to attend consecutively.
Physiotherapy rebates are available for this course.
Part of the class cycle can be attended if you are more than 30 weeks pregnant.
Any sessions not used by the end of pregnancy can be used for the mothers and babies class.
There are no refunds on class tickets.
Testimonials
Various Students
Thank you Vanessa for all we learned at the workshop and for all I learned at yoga, our birth experience would have been quite different if we werent so informed, to say the least. Thanks again Vanessa without the confidence that the pregnancy yoga has given me and my partner I think we would have had a very different outcome. Through attending your classes I was able to go into my labour with a positive attitude and an open mind and I can't thank you enough for this. I had heard so many horror birth stories so it was refreshing and reassuring to attend your classes and be surrounded by positive people and positive stories week after week.